F-i-n-a-l-l-y! Got the bandwidth problem settled ;)
Yes yes yes yes I can blog again, wahaha
-
I caught The Time Traveler's Wife with girlfriends
it was pretty draggy... but ohwell, Wasn't tad bad a movie!
Then met babiesss


and off to zouk for Simian Mobile Disco!~!~!~!


Hehe my favouritest drink, broke my record and had
3 of those at night!!!! Slurpsss yumyum.


it was also Audrey's bday!
Hope you had fun that nighttttt :)


zi bi zheng picture.. we autistic kids


one of the thousandth time I dropped my bb...
DAMN SAD OK!! Everything fell apart grrrrrrrr
out of the 1000 times I even left the battery cover
somewhere on the floor... free cover for the cleaners -_-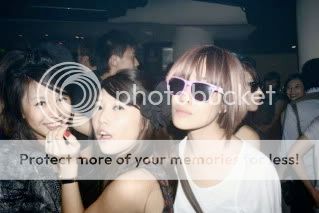 my "lottery" face..
prolly one of the few pics you will come across w
me smiling with teeth :D


Heh heh and lastly...


woots! Donnamaedonnagohdonnamae!
Dancing queen of the night... hahah :)
xo to alll of you guys <3
-
yups yups, one helluva awesome week gone!
tmr is a brand new one!
Hope that everything goes welllllll /:

I'm still on my "diet" pft, nothing's changed...
must save money already! shall stay home this week
hehe can't wait for 20th Sept for Stevie~~~ *winks

Ok. That's about it~
Enjoy your Sunday guys X