"FABRICDEVOUR is a web store based in Singapore that offers the most dersirable yet affordable apparels and bags, as well as shoes and accessories via online. Our goods are selectively sourced and hand-carried back from across the globe"
FabricDevour would be launching their latest collection tonight!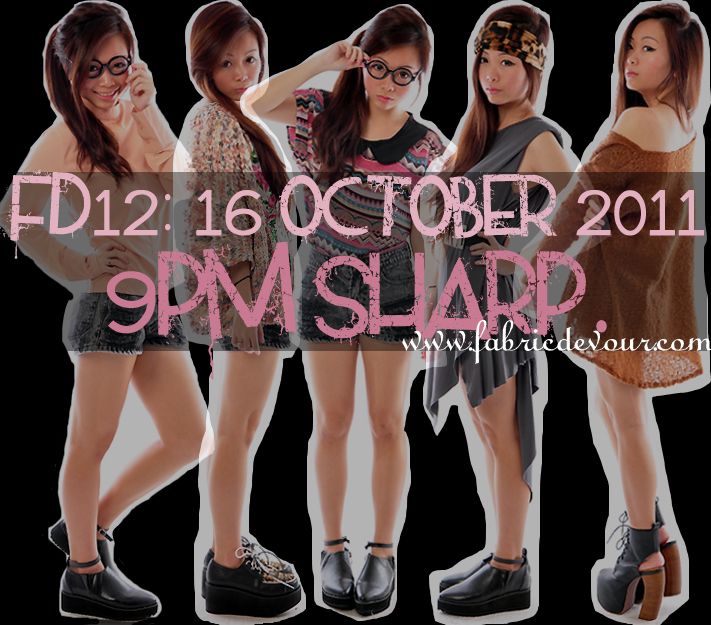 Here are some of the items featured in their latest collection:
and some of the pieces that I've picked out of the collection, these are some that I really like!
especially this knitted cardigan!!! So pretty, I can wear this all the time
(plus its the rainy season now and singapore get's pretty cold on some days)
Good to stock up on cardigans pullovers etc... hehe
asymmetrical grey dress fit for mant different kinda occasions, just like how it's styled below
wear it with or without a belt! I'd prefer it if it came in black tho, but nonetheless I like how
it drapes on the model
more knitwear...
...
IMMA SUCKER FOR KNITS!!!!
hiakhiakhiakhiak i can never have enough knitwear... NEVER EVER. hahahahahaha
*high*
another outfit that I like..
and lastly this colorblock bodycon! Hehe I hardly wear bodycon tho, but I find this nice
and eye catching! Perfect for party animals haha, wna go party party and steal the limelight all
Must buy this! Hahahahahahahahaha
Okay I'm kidding, but yeah it's a nice dress luh! Heh :)
FD have launched their collection at 9pm! So go check it out!!!
(click on the image below to be redirected to webstore)
FD currently has two running websites, one is
http://fabricdevour.miyoc.com/
sometimes when the traffic is high on the second website the webpage might not work,
so alternatively you can go to http://fabricdevour.com/ !
Both are the same anyway so yep :)
**Do sign up for the mailing list to receive updates on their latest collection/s!**
You can also check out and "Like" their facebook page:
(click on the image below to be redirected to webstore)
and also follow them on twitter for their latest updates!
(click on the image below to be redirected to webstore)
Go go go hurry go shop before your favourite item runs out of stock!